Montreal International Jazz Festival | TOP musical delights beyond the headliners
Montreal International Jazz Festival held from June 30 to July 9, 2022 presented by artists from here and afar, 2/3 of them free!
The 42nd edition of the Montreal International Jazz Festival is a veritable smorgasbord of musical delights. There are over 350 concerts to choose from during a ten day period. But beyond the main headliners that everybody knows, how does one choose which other acts to see?  To aid you in your quest, I compiled a short list of the remaining performances that are not to be missed.
BAND PERFORMANCES 

DJANGO FESTIVAL ALL STARS
Straight from France it's a swinging tribute to the iconic Django Reinhardt: the pioneer of Gypsy Jazz. Born in Belgium into a family of Manouche Romani descent, Reinhardt formed the Paris-based Quintette du Hot Club de France in 1934. The group was among the first to play jazz that featured the guitar as a lead instrument. His influence as a guitarist is still being felt today.
The Django Festival Allstars honor the traditions of his Gypsy Jazz while adding their own interpretations, arrangements and original compositions. Featuring the stunning virtuosity of Samson Schmitt, Ludovic Beier, Pierre Blanchard, Doudou Cuillerier and Antonio Licusati.
July 7 @ 6pm Le Gésu
TORA-I
She is part of this new wave of alternative RnB coming out of the U.K. She reminds me of artists like FKA Twigs and Charlotte OC as their music is very deconstructed. They are unafraid to explore minimalist electronic music and experimental glitch techniques. They avoid the stagnant mainstream clichés so prevalent in American RnB.
July 7 @ 6PM – Scène TD
BRUBECK BROTHERS QUARTET
Chris and Dan Brubeck are the multi-instrumentalist virtuoso sons of the iconic jazz legend Dave Brubeck. Although the Quartet's style is rooted in "straight-ahead" jazz, their concerts reveal an inherent ability to explore the odd time signatures their father popularized. While naturally integrating the influences of funk, blues and world music.
July 8 @ 6pm Le Gésu
BEBEL GILBERTO
If we were to genetically engineer the ultimate Bossa Nova singer, the result would be Bebel Gilberto. She is the daughter of the legendary João Gilberto and singer Miúcha. Her childhood was spent touring the world with her parents. The music of Brazil is in her blood. She has sold over 2.5 million records and been nominated for multiple Grammy Awards. Her voice is a staple of the trip hop genre due to her collaborations with Thievery Corporation, Brazilian Girls, Kruder & Dorfmeister, King Britt, 4 Hero and Amon Tobin.

July 9th @ 8pm Théâtre Maisonneuve
CONNIE HAN
Imagine an Asian Elvira in skin-tight Goth vinyl outfits kicking ass on the piano in stiletto heels. Her skills are top notch and she plays with incendiary passion. Her slick sense of style breaks the mold on how jazz pianists present themselves. She has released several albums of her own compositions to great critical acclaim. In 2019 she was bestowed the honor of being selected to be a Steinway Artist, joining a long list of elite pianists going all the way back to 1872. Luminaries include Irving Berlin, George Gershwin, Cole Porter, Sergei Rachmaninoff, Harry Connick Jr., Billy Joel and Diana Krall to name but a few…
July 9 at 20h and 22h Pub La Traversée Molson Export / Place Tranquille

SUUNS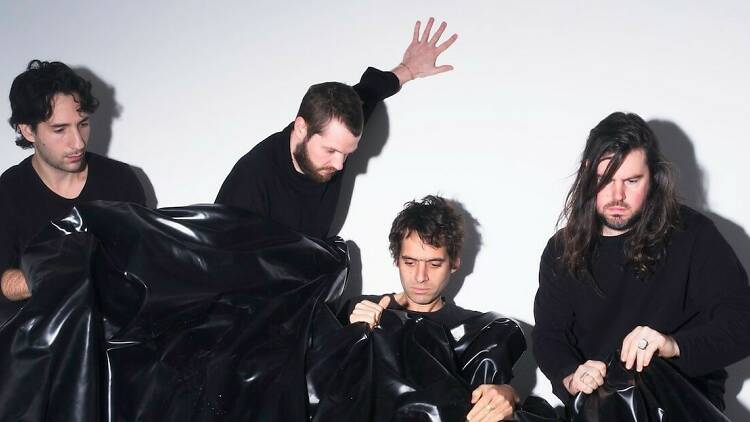 This local indie band are truly a special gem. Their unique blend of atmospheric psychedelic post-rock soundscapes has earned them legions of fans around the world. They've performed at many major music festivals in Europe. So if your tastes lean a little more towards bands like Spiritualized, Galaxie 500, My Sleeping Karma, Spacemen 3, My Bloody Valentine and that first Verve album "A Storm in Heaven", check them out…
July 9 @ 23:00 Club Montreal TD
DJ PERFORMANCES 
This list wouldn't be complete without including a couple DJ sets. So it is imperative to profile two mainstays of the Montreal scene with long relationships with the Jazz Fest. These DJ performances are part of a series curated by Music is My Sanctuary.
DJ LEXIS
Lexis is the founder of the Music Is My Sanctuary collective and the 24 Hours of Vinyl worldwide series of events. As a DJ, he is a pillar of the Montreal music scene. He recently gave a TED Talk on the cultural role of the record collector community and importance of human music curation. This TED Talk has now been viewed 1 million times and translated in 20 languages. Lexis is one of the most versatile DJ's and record collectors out there and continues to tour clubs & festivals where he shares the stage with artists like Thundercat and Gilles Peterson etc…
July 8 @ 6PM
@Club Montreal TD / Esplanade Place Des Arts
DJ ANDY WILLIAMS
Over the last 40 years he has performed as a DJ across North America, Europe and Africa. He founded the popular syndicated radio show The Goods in 1993, co-founded Jazz Amnesty Sound System in 2010, taught jazz studies at McGill and is in demand worldwide as a guest lecturer at universities. He has collaborated with popular British DJ's & Producers like Quantic and Mr Scruff. When Andy is DJ'ing the audience is receiving an education via deep cuts.
July 9 @ 6pm
@Club Montreal TD / Esplanade Place Des Arts
The Montreal Jazz Festival held from June 30 to July 9, 2022 presented by artists from here and afar, 2/3 of them free! The menu features music legends, discoveries, diversity, experimentations as well as some shows created exclusively for the festival.
North American Premiere anyone? The "Stranger Than Kindness : The Nick Cave Exhibition" is at the Galerie de la Maison Du Festival in Montreal. It is an unprecedented look into the creative world of this fascinating musician, storyteller and cultural icon. It is no mere collection of memorabilia, it is a cohesive art installation and is open until August 7th. You can read our review here.
Simon Wayland
Simon is 20 years into a life sentence in the music biz. He's performed at major international festivals and worked with Grammy Award winners. As Music Curator for BKM he gives you a sneak peek behind the curtain...