Dîner en Blanc Montreal | Elegant open-air picnic in a best kept location
Dîner en Blanc Montreal – The city's largest dinner party is making its comeback on August 18th!
The 12th edition of the Dîner en Blanc Montreal will take place on August 18th. Once again, the unique location is kept secret until the very last day!  
To keep your curiosity growing, attendees will meet at a predetermined location where they will be greeted by a volunteer and escorted by bus or metro. The astonishing secret venue will then be revealed to the guests.
The address is finally revealed!
Cathcart Terrace at Esplanade Place Ville Marie, near the Ring
1, Place Ville Marie (between René-Lévesque and Cathcart street)
Eccentric or classic, be remarkable!
This year, Rox-Out, the creative agency of the evening, is offering guests the opportunity to continue the festivities until the wee hours of the night after this exciting celebration. As many other cities around the world do, the organization encourages guests to travel by foot or by metro. Ready to dare? 
Dressed to impress, Montreal will be echoing to the sounds of glasses cheering, people laughing and head in sync with music! Surrounded by thousands of hearts beating to the same beats. Bring out your pearls, your linen shirts, your white flower crowns, your long dresses, your masks and most importantly your audacious class! Please remember that no nuances of white will be permitted. 
Feel free to bring your own gourmet menu! If you're not a 5 star chef, we have your back. Chefs Joey Awad of SHAY Restaurant and Christopher Ranco from Blandino and Pancho will tantalize your taste buds with their 5 and 6 course menus.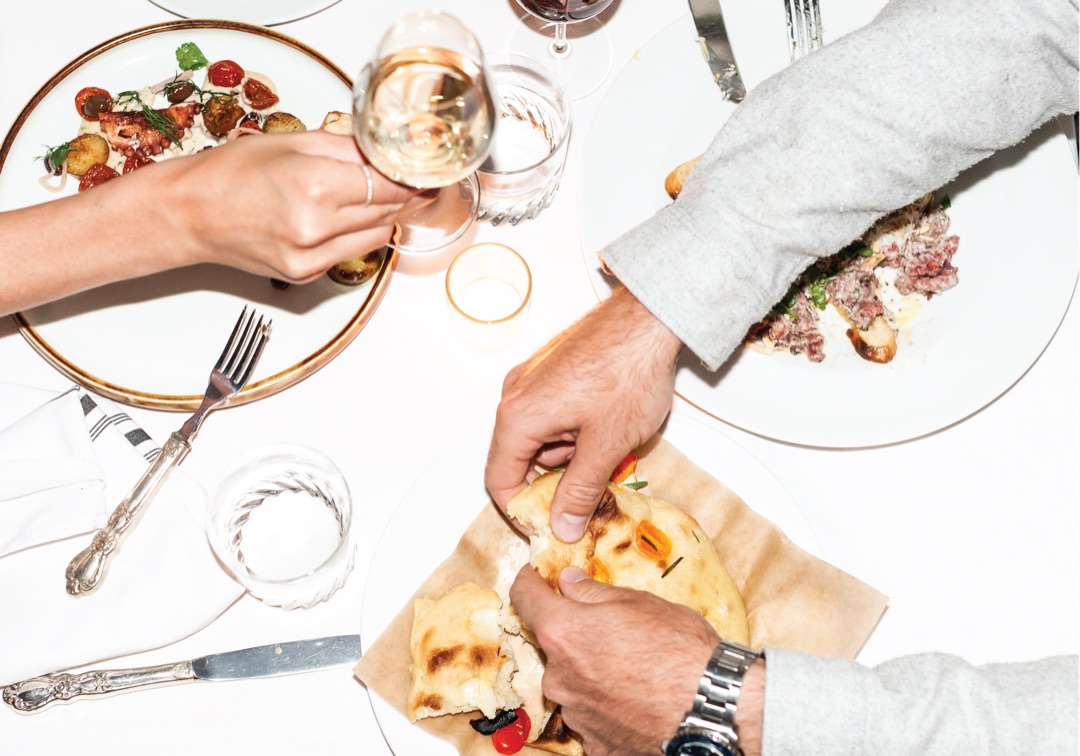 Experiences are more exquisite when shared
Foodies, fashionistas and night owls, the time has come to magnify your senses by participating in this new edition of Le Dîner en Blanc. Picnic starts promptly at 7, followed by mingling and dancing under the stars and – between us – there are a few more surprises waiting for you. 
Schedule 
Table set-up: 6:30 pm
Dinner in white & festivities: 7pm
Celebration: 9pm to 11pm
Move to the night party (afterparty, 15$ cover fee): 11pm
How to participate
By registering your email address on the list now, an invitation will be sent by email to reserve your seats at the Dîner en Blanc. This is on a first come first served basis. 
Tickets are sold in pairs only. The cost of each ticket is $45 (metro access) or $58 (bus access) + $10 membership fee and applicable taxes. For your convenience, you can also rent your chairs and table.  
Prices
Walking or by subway: 45$ / person 

Walking or by subway + table and chairs rental: 60$ / person

Travel by bus: 58$ / person 

Travel by bus + table and chairs rental: 73$ / person
To receive the official invitation by email, register here. Montréal Diner en Blanc would like to thank Groupe Lauzon (Porsche Rive-Sud, Porsche Lauzon and Porsche Drive), Armani and La Bonne fille tea, as partners of the event.
Be reminded that…
The location remains a secret!

Rain or shine, this is happening. 

You can bring or rent your table and chairs on site.

Here are your must-haves to attend: a table and two white chairs, a white tablecloth, white dishes, glassware, silver c

utlery, your gourmet meal or your online pre ordered catered menu.

Fashionistas be audacious in your choices of all white attire. Only pure white will be accepted. 

You can expand the theme all the way to your table: bring candles, flowers or any accessories. Absolutely everything must be white.

Cheers with your glass filled with wine or bubbles that you brought. Beer and hard liquor are prohibited.

In order to leave the event location as clean as it was when guests arrived, guests are required to leave with all their belongings, leftovers and litter. 
Looking for culinary best kepts? Les Petits Mtl is opening its third themed bar, Le Petit Mexico. Russian-themed bar in the heart of Montreal's Latin Quarter.
Alistar
There's no biz like show biz for Alistar. Always on the look out for society's movers & shakers, discovering their latest ventures. Signature move: delivering short & concise content for your reading pleasure.