Best Montreal Cafés | Staff Picks of 10 Coffee Nooks 2022
What are the best Montreal Cafés? Well that depends on who is judging! Our staff represent over 21 gem hunters who gave us their picks… Montreal Cafés full of people are everywhere in this city. Tired of circling the same ones everyone else goes to? Not finding a spot and being unable to hear your own thoughts is sure to ruin your café experience. Looking for a new study spot? A place to catch up with friends over a good cup of coffee? Well, you're in luck! Montreal has tons of amazing secret cafés courtesy of our Best Kept MTL team!
Most well-known spots can be loud and crowded. Check out these more tucked away spots for a cozy, calm atmosphere. Great coffee, pastries, and cozy, instagramable photos await you! You may just discover your new favourite café ready to feed your caffeine addiction. 
Here are 10 somewhat hidden cafés or places to pick up a coffee-to-go that are among the staff faves for Best Montreal Cafés Summer 2022.
Hidden inside well ordered rows of refined produce, is a high quality Espresso with beans from torréfacteur Rico (Le Mont-Royal & Gran Cremoso being my fave 2) + a rich buttery and genourously sized Croissant from Mamie Clafoutis for just over $5. What can a local find here? Everything you would want for an EPIC charcuterie board to impress guests or emergency eggs, milk… they also have lots of rare and made in Quebec gems like special honey and meals-on-the-go.
On perhaps the most romantic street in the Old Port (St-Amable lane). Adorned with vines and magical lighting, is a MTL Italian staple since the 1970s: classic Olympico. While, we generally dislike chains, this one has the best espresso period. Always has, always will. Go for the best espresso, stick around for the Ragazzi chatter!
French-inspired decor accompanied with everything from alcoholic beverages to salads, sandwiches, and coffee, this café is a must for tourists and Montrealer's alike. A much-beloved spot located in Outremont, La Croissanterie Figaro, is definitely many Montrealer's favourite spot. Rich, tasty croissants, and good coffee in a cozy atmosphere is the perfect combination to make your café experience extra special.
Beautifully decorated with a modern atmosphere and comfortable seating, this coffee shop is also useful for friendly gatherings. Looking to pick up a quick cup of coffee before you go about your day? Humble Lion is an ideal little spot to get your daily dose of energy. Supporting smaller cafés right now is very important. Getting your daily cup of coffee from a smaller chain will surely be appreciated. 
A cute vegan cafe to visit is LEAVES HOUSE (Montagne). Vegan matcha, vegan milk, vegan snacks, this cafe takes pride in the fact that it's 100% free of any animal products! More than just drinks, they also sell all kinds of little knick-knacks, clothes, plants, and different types of plant-based milk. Vegans, and non-vegans, this place is environmentally friendly, aesthetically pleasing, and has a seriously addicting menu.
Café Esquina offers simple vegan cuisine and sources its coffee from Toronto's Pilot Coffee Roasters! Looking for a more European vibe? Esquina (which means "corner" in Spanish) is a bright café with a plentiful menu and definitely a great place to drop by if you're looking for a new coffee spot to explore. 
Cafecito came to life after a trip to Little Havana, Miami. The interior was designed to recreate the charm of Havana, a daily escape where time seems to stop. With impressive Cuban style coffee behind a garage door, this place has a lot of uplifting decor in a small space. Tucked away on Prince street between Old Montreal and Griffintown, this place comes as a pleasant surprise to many. To note, they were one of the first places to implement big pink socially distancing stickers right on the sidewalk. Go say HOLA they are friendly!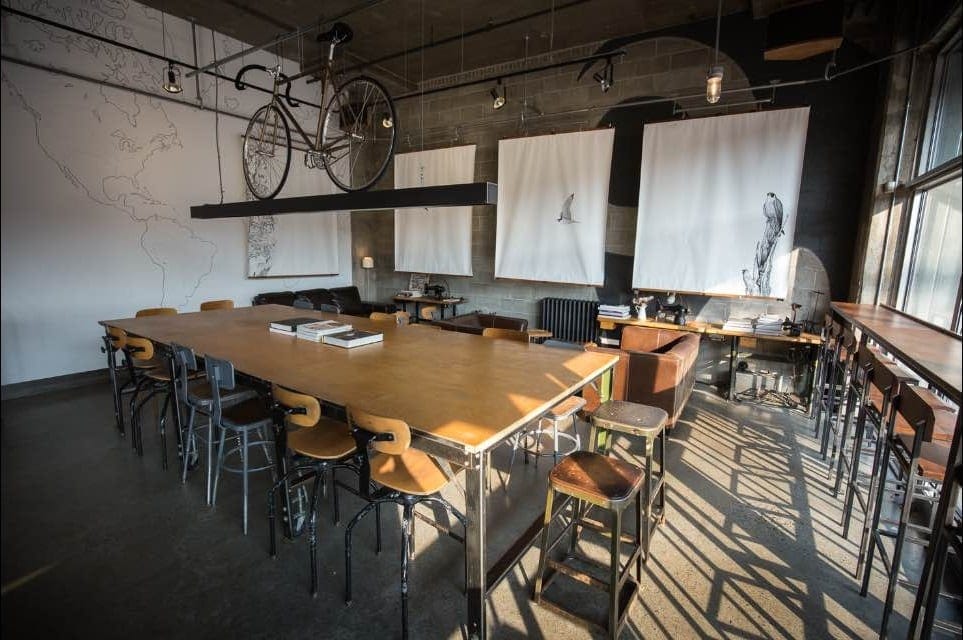 A spacious, sunny warehouse complete with couches and hanging bicycles, Le Falco is everything a cafe should be. This one of a kind coffee shop offers exceptional coffee along with some Japanese cuisine. If you want a really cool, unique experience, Le Falco is the place to go. Instead of traditional coffee machines, this café serves siphon coffee, popular in Japan. Combine your favourite Japanese foods with coffee! It honestly sounds too good to be true.
Brick walls and a plentiful menu make this Persian Sherbrooke café a great place to catch up with friends. Comfort food including sandwiches, salads, and different deserts like Iranian pastries are offered in this rustic coffee spot. The Snowman's Kiss definitely sounds like a drink worth experiencing. Comfort food including sandwiches, salads, and different deserts like Iranian pastries are offered in this rustic coffee spot. Coffee, tea, and special drinks like Snowman's Kiss, Persian Paradise, and Sherbats are also served.
10.  Cafe Nocturne
This one has a hidden Patio hello! It is small and unique and servies great coffee. The decor is rustic and slightly vintage and long tables showcase a communal tribe of plateau vibes. Check it out!
For those of you too busy apartment hunting to dilly dally in coffee shops, The Onyx in Griffintown, still has some amazing units left and a move-in-offer that allows you to move now, and only start paying rent in September!
BKM Staff
From wild wanderers to secret seekers, the Best Kept Montreal Staff is an electric team of contributors dedicated to capturing the pulse of the city