ART BASEL MIAMI 2022 | Your Best Guide to its Top 8 Free Exhibits & More
Feel the tropical vibes @ ART BASEL MIAMI 2022. Read on to discover our TOP 8 FREE EXHIBITS & MORE
This year marks the 20th anniversary of Art Basel Miami. While art lovers need to pay to access the official fair, along with many of its satellite exhibits around town, some installations and shows are free to the public.
Here are my TOP PICKS for the coolest free art installations and events to check out this year (in no particular order):
NUMERO UNO
ICA Miami – Known for breaking fresh talent and giving primary museum exposure to under-recognized artists, the free and open-to-the-public ICA Miami presents ICA Miami Goes Punk feat. Pussy Riot. Russian protest punk band Pussy Riot will perform at the unveiling and installation of CryptoPunk #305, a first-of-its-kind NFT artwork being donated to ICA Miami by web3 leader and NFT art innovator Yuga Labs. Friday, December 2, 7-10 PM. RSVP in advance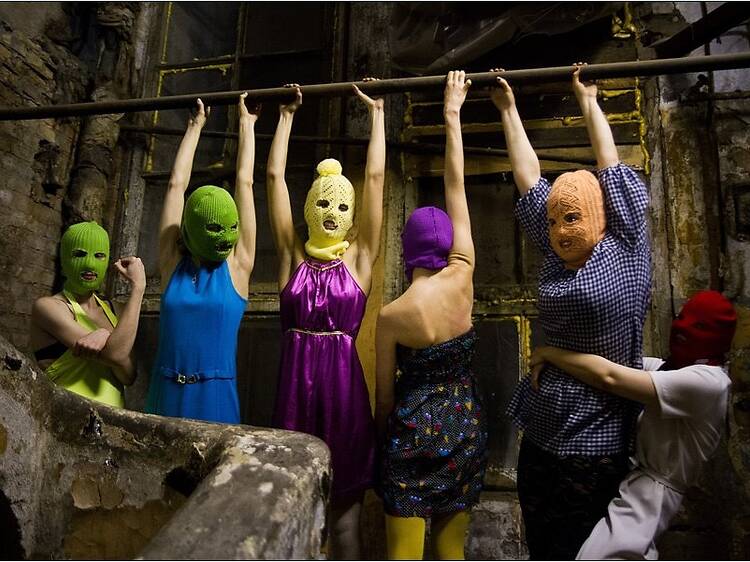 NUMERO DOS
The Design District has awarded its 2022 Annual Design Commission to Miami-based architect and designer Germane Barnes. Rock | Roll is a multifaceted installation that draws on the vibrancy of Miami Carnival to honour the BIPOC communities that contribute to Miami's polyethnic culture. Explore the neighborhood to discover and interact with a series of massive, whimsical capsules that rock back and forth when activated by users; hundreds of windchimes evoking the sounds of soca music hung up in the trees; and a free-floating dome suspended overhead and animated by light and sound, which will serve as an anchor to a communal and lively commission. Various locations – more info here.
NUMERO TRES 
Morning Glory by Paula de Solminihac
Winner of the 2022 Faena Prize for the Arts, Morning Glory at Faena Beach invites endless interaction and play for all. Created in collaboration with architect Vicente Donoso, the installation takes the form of the Beach Morning Glory, a traveling evergreen vine that is nearly omnipresent throughout the beaches of Florida as well as the entire world thanks to its floating, seawater-resistant seeds. 3201 Collins Ave, Miami Beach; Nov 29–Dec 4
NUMERO QUATRO
No Vacancy, Miami Beach
This juried art competition presented by the City of Miami Beach and the Miami Beach Visitor and Convention Authority platforms local artists and invites the public to experience Miami Beach's famed hotels as fleeting art destinations. Now in its third and biggest year, No Vacancy has tapped 12 artists to create site-specific works across 12 iconic Miami Beach hotels like The Avalon, The Betsy, Faena and Fontainebleau. Installations will be on view from November 17 through December 8, when the winner will be announced. Various locations
NUMERO CINCO
Hive Wynwood 2022 – Even bigger and better. With so many events to see, you'll need a place to unwind, relax, have a cocktail or two and the HIVE has you covered. Taking over two blocks of Wynwood's main artery, this four-day event offers a sanctuary from the pushy crowds with multiple cocktail bars, lounges, live, large-scale mural painting, DJs and other performers, including a full-sized club featuring surprise guests all weekend lasting into the late hours of the night. 2250 NW 2nd Ave; RSVP in advance for a free cocktail.
NUMERO SEIS
Wish Towers opening at Vizcaya – The Vizcaya Museum & Gardens hosts an artist talk and brunch reception for just $5. Explore the famed estate and gaze upon "Wish Towers" by Jaime and Javier Suárez Berrocal, inspired by the native coral limestone that was used extensively in the creation of the gardens. Learn more about the piece during the talk (10am) and then move to the Fountain Garden for brunch, complete with pastries and mimosas (11am). Dec 3, 9:30am. Ticket available here.
NUMERO SIETE
Art is Dead by ÆTHELSTAN – BIPOC visual artist Vincent Peters, known as ÆTHELSTAN, partners with Decree349R, a non-profit organization created to counter Cuba's Decree 349, forbidding artists from creating any type of music or art without the government's permission, to presentArt is Dead. The new art collection supports the families of Cuban artists in prison. The collection, whose first work was sold to Ice-T, features 18 acrylic and oil pastel paintings, with 100% of the profits going to support artists through Decree349R.org. 5600 NW 7th Ave; Dec 1–5.
NUMERO OCHO
Stack the Deck at Museum of Graffiti – Mattel Creations and the Museum of Graffiti join forces for Stack the Deck, an experiential art show that brings new meaning to "collectible toys." Watch as eight global graffiti artists live-paint their own wild interpretations of larger-than-life UNO cards to be featured in an upcoming UNO specialty deck. Artists include Sneke, Tones, Ras Terms, Queen Andrea, Finok, Ladie One, Merlot and Yubia. The limited-edition, graffiti-covered deck will be made-to-order and available for pre-sale at the event and online starting December 2.
Wherever you end up, this year's Art Basel is sure to be another one for the books. Don't forget your sunscreen, shades, and most importantly, your walking shoes to make it too as many of these stellar exhibits as you possibly can! Happy Art Basel!
Erin Whittaker
Marketing and communications professional, Erin Whittaker is an electronic music geek, photography and film buff, and all things pop culture.